You may have heard of leaky gut - often called intestinal permeability - and wondered what it is and how it may affect your health.
Our evidence-based approach is orientated towards the personalised health approach and we aim to provide you with actionable knowledge and tips to help you on your journey to optimal health.
In this article we will look at what may cause this condition to develop, the symptoms it can produce and how you can support a leaky gut.
What is Meant by 'Leaky Gut'?
---
Your digestive system is a long tube which stretches all the way from your mouth to your anus.
Food travels along this tube during the process of digestion.
Strictly speaking at this stage, the intestinal contents are not yet inside your body.
The lining of the digestive system is incredibly important as it provides a barrier between the inside and the outside.
It's vital this lining allows the correct components of your food to pass through into the bloodstream, while preventing substances being absorbed which could do your body harm.
The digestive lining is only a few millimetres thick and covers an incredibly large area - if stretched out it would cover between 30 and 40 square metres, around the size of a small studio apartment (1).
The small intestine, which is where the majority of nutrients are absorbed from your food, has the largest surface area, with many tiny folds and projections.
Along the length of the intestinal lining, the billions of bacteria living in your gut interact with the largest immune system of the body.
Between each cell lining the gut are tiny gaps called 'tight junctions', which allow nutrients and water molecules to pass through while preventing harmful substances from accessing the body.
Leaky gut occurs when the lining of the small intestine becomes porous, in other words the tight junctions open up, allowing substances into the body which would ideally be eliminated.
These could be parts of food which have been incompletely digested, or bacteria, viruses or toxins.
In other words leaky gut refers to an increase in intestinal permeability, and this is how it's often referred to in medical literature.
It's not entirely clear what causes the tight junctions to expand, but one factor appears to be the release of a protein called zonulin (2). This is produced by intestinal cells and causes alterations in the gaps between the tight junctions.
How can Leaky Gut Affect my Health?
---
It's difficult to distinguish cause and effect, and leaky gut has been blamed for a host of issues in the past, when it's unclear whether it is a precipitating factor or a consequence of inflammation which is common to many chronic health problems.
Absorption of the wrong types of substances has been linked to many health issues such as Irritable Bowel Syndrome (IBS), Multiple Sclerosis (MS), chronic fatigue, depression and mood disorders, fibromyalgia, migraine, thyroid abnormalities, skin conditions such as dermatitis, Type 2 diabetes and autism.
It's thought a gut which is too permeable may also contribute to the development of Alzheimer's and Parkinson's disease.
Although relatively little scientific research has been carried out on intestinal permeability, recently scientists have begun recognising its importance.
Leaky gut is often seen in connection with autoimmune diseases.
It has been observed before the onset of the disease and so appears to be involved in the cause of autoimmune disease rather than simply as a symptom (3).
Several studies have looked at the role leaky gut may play in the development of diabetes (4).
Researchers now believe high levels of sugar may damage intestinal lining cells, while a leaky gut may in turn interfere with blood sugar control.
The reason intestinal permeability is linked with such a comprehensive list of health issues is because a leaky gut is associated with an increase in chronic inflammation throughout the body (5).
Increased intestinal permeability is also connected with poor nutrient absorption, especially of zinc, iron and vitamin B12.
This can cause a myriad of symptoms including fatigue, memory issues, skin problems, slow healing of wounds, shortness of breath, dizziness and headaches.
Leaky Gut and Food Intolerances
---
Food which is not completely digested into its component nutrients may still be able to pass through a permeable intestinal lining.
In this state it will be unfamiliar to the immune system and may be perceived as an invader on which the immune system mounts an attack, which can result in a food intolerance or sensitivity.
This is particularly the case with proteins, which are complex combinations of amino acids and undergo many stages during their breakdown in the course of digestion.
Food intolerances are different from classical allergies which tend to be immediate and fairly predictable - breaking out in hives after eating strawberries, for example.
Food intolerances are connected with a different type of antibody to classical allergies and can fluctuate or even appear and disappear over life, depending on how healthy the digestive system is at that time.
They can be tricky to spot as their effects are often delayed, or dependent on how much of the food is eaten.
Food intolerances are connected with a wide range of symptoms including skin problems, digestive problems, tiredness, joint issues, skin conditions, headaches, menstrual disturbances, mood swings and difficulty in concentrating.
The relationship between food sensitivities and leaky gut doesn't end there, because if we eat a food the body is sensitive to, inflammatory chemicals are released by the immune system which can further damage the intestinal lining.
All this means that once you have a leaky gut, you may be highly susceptible to developing additional food sensitivities in the future.
You can see from this that simply avoiding the foods to which you have developed sensitivities is only treating the symptoms, not the cause.
Many natural health practitioners see clients who have avoided one food after another only for their food choices to become overly restricted and for them to develop sensitivities to their 'safe' foods over time.
This is one of the reasons why all of us benefit from eating a wide variety of foods, but also why it's so important to correct the cause of the problem, part of which may be to repair the damaged intestinal lining.
What can Cause Leaky Gut?
---
Many different factors can damage the gut lining, including:
Leaky Gut and the Microbiome
---
Closely connected with the health of the gut lining are the bacteria which live in your digestive system.
Collectively called the microbiome, when this population of bacteria is dominated by so-called beneficial bacteria, they help to keep the gut lining healthy.
Ideally, the large part of the microbiome is found in the large intestine.
Scientists have discovered if certain types of bacteria are present in the small intestine, they can influence the level of zonulin.
One study found the presence of certain bacteria in the small intestine caused the intestinal lining cells to secrete zonulin, possibly in an attempt to flush out the bacteria which would not normally be found there (9).
An overgrowth of bacteria in the small intestine is known as Small Intestinal Bacterial Overgrowth (SIBO).
How do I Know I Have a Leaky Gut?
---
At Amchara, we believe in the motto 'test, don't guess'.
Because leaky gut can produce so many diverse symptoms, it can mimic many other causes.
One test to assess intestinal permeability is a stool test which can detect levels of zonulin, as well as assessing the health of your microbiome.
The sample can be taken privately in your own home and sent off by post to a laboratory for analysis.
Our Gut is Dynamic and Unique
---
The complicating factor behind any scientific research is we're all different.
For example, our immune system may be genetically susceptible to react to unfamiliar substances - in other words it's turned on to high alert by our genes.
This may mean we're more likely to react when partially-digested substances are absorbed into our body.
New research is discovering that tight junctions, which were thought to be largely static, are in fact constantly changing.
It appears they open and close in response to the type of food we eat, the levels of inflammation in the body, the presence of bacteria or viruses and stress levels.
The good news is we can use this information to help restore intestinal integrity by closing the tight junctions once more.
How to Support a Leaky Gut
---
Supplements to Support a Leaky Gut
---
Please note supplements are best taken under the guidance of a natural health practitioner.
Takeaway
---
Science is beginning to confirm what natural health practitioners have recognised for many years – that the health of the lining of the intestine is crucial for our overall health.
If your symptoms suggest you may be suffering from leaky gut, a consultation with an Amchara practitioner can suggest appropriate diagnostic tests and provide lifestyle, nutritional and supplement recommendations to help heal your gut.
We believe sharing knowledge and experience is an important part of achieving optimal health and would love to hear your views and experiences.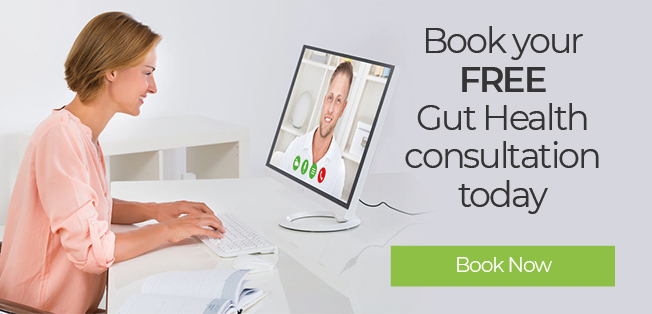 Did you find this article useful?
Are you experiencing symptoms connected with leaky gut?
Which strategies have helped you?
Please share your thoughts in the comments.
---
READ THIS NEXT: