It's a great time of year to get experimental with warming soups and juices. There are lots of tasty vegetables and fruits in season. Of course, all of these lovely soups and juices contain lots of nutrients and are fairly low in calories, making them nutrient dense and really good for you.
Hearty Protein-Rich Vegan Lentil Soup

---

This vegan lentil soup is hearty and contains high levels of protein, which is important for vegans.

Ingredients: 1 chopped onion, 4 tbsp olive oil, 2 diced carrots, 2 sticks chopped celery, 2 finely chopped or crushed cloves of garlic, 1 tsp fried oregano, 1 bay leaf, 1 tsp dried basil, 400g chopped tomatoes, 350g dry lentils of your choice, 2 litres water, 2 tbsp vinegar, handful spinach.
Method: Heat olive oil in a large pan and add the onion, celery and carrots. Cook until the onion softens, then stir in the garlic and herbs and cook for two minutes. Stir in the lentils and then add the water and tomatoes. Bring the ingredients to the boil and then simmer for an hour until the lentils are cooked. Just before you serve, stir in the spinach and vinegar until the spinach wilts and serve warm.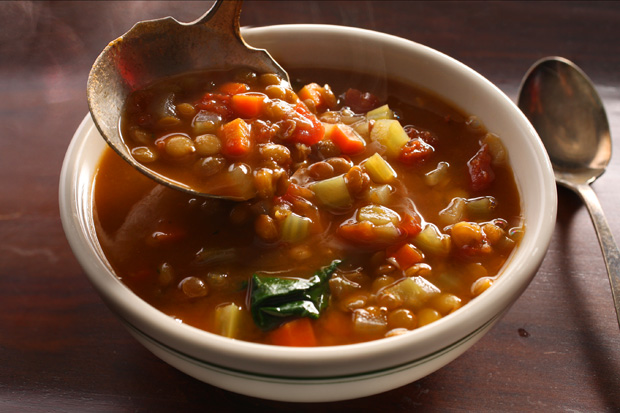 Vegetable Soup

---

This warming vegetable soup is a great way to enjoy the health benefits of lots of vegetables in one healthy meal.

Ingredients: 1 tbsp olive oil, 2 leeks chopped, 100g green beans chopped, large courgette diced, 4 vine ripened tomatoes chopped, 400g tin cannellini beans, 1.2L vegetable stock, handful of basil.
Method: In a large pan heat the oil and fry the leek until soft. Add the courgette and green beans and then pour over the vegetable stock before simmering for 5 minutes. Stir in the beans and tomatoes and then cover and simmer for 5-6 minutes until the vegetables have all softened. At the end, stir in the basil and serve hot.
Pea, Mint and Spring Onion Soup

---

Any soup with a hint of mint gives that spring-fresh taste, but this pea and mint with the spring onion twist is a true delight that you will find yourself eating plenty of every year.

Ingredients: 2 tbsp olive oil, 5-6 sliced spring onions (around half a bunch), 1 medium potato diced, 900g petit pois (frozen is best), handful of fresh mint leaves, 1 litre hot vegetable stock.
Method: In a large heavy bottom pan, heat the oil and add the spring onions and potatoes. Fry for around 5 minutes then add the stock, bring to the boil and simmer for around 8-10 minutes until the potato is fairly soft. Next, stir in your petit pois and cook for a further 3 minutes. Add the contents of the pan to your blender, throw in your mint leaves then blitz until almost smooth. Place back in the pan and heat, then serve hot.
Yum-Yam Cleansing Juice

---

This yummy juice is a great one for cleansing and the ginger gives it a nice zingy flavour that will get the taste buds going. If you want to dilute it to make it last and make it cheaper just add as much water and ice as you like to the finished juice.

Ingredients: 3 large carrots, a green apple, ½ large sweet potato, ½ cucumber, ½ inch ginger root, tsp cinnamon.
Method: Add the ingredients to a juicer and enjoy! If adding water, mix the juice with the water and crushed ice to make a refreshing drink. This is a wonderful juice to wake up to in the mornings and gives you a good morning kick!
Green Beauty Juice

---

Juices are the best way to get all of the beauty benefits from fruit and vegetables and you are consuming them in their raw state, meaning that they are more nutrient rich than if they had been cooked.

Ingredients: 3 asparagus spears, a green apple, a whole lemon with rind removed, 1 cucumber, handful spinach.
Method: Add all ingredients to your juicer and juice! You could add a handful of mint for a fresh summery drink!
Put a Spring In Your Step Juice

---

This is a great juice for January and is perfect if you're doing a juice detox.

Ingredients: 2 Swiss chard stalks, handful parsley, 2 celery stalks, a green apple, ½ cucumber
Method: Add all ingredients to your juicer, juice and enjoy!
---
Other vegan recipes and topics:
---