You will have heard a million times over that you need to get your five a day, but many people still struggle to eat their five portions of fruit or vegetables in a day.
A great way to get the vitamins and minerals that you need in your diet is to drink lots of homemade smoothies, you can put vegetables in them as well as fruit for all-round goodness!
The benefits of smoothies are clear:
they help to keep you healthy
younger looking
and can help you to keep your weight in check too.
Fruit and vegetable smoothies are a fantastic thing to have on your weekly vegan day (vegan posts are here, here and here)
If you choose the right ingredients, you could make yourself a really good antioxidant rich smoothie too.
Antioxidant smoothies
---
There are lots of antioxidant rich ingredients that you can put in your homemade smoothies, but what are the benefits?
As I have mentioned in some of the other blog posts, antioxidants help to reduce the levels of free radicals in the body, which are harmful by-products of oxidised cells.
Antioxidants work by slowing down and preventing the oxidation of your body cells, and this can help to prevent cancer and other horrid illnesses.
Some great examples of ingredients that you can put in your smoothies that are have a high antioxidant rating are berries:
raspberries
strawberries
tropical and citrus fruits
For added benefits, why not add in a shot of wheatgrass?
If you have two shots per day, is proven to have anti-ageing effects (Read our post on the health benefits of wheatgrass).
Other benefits of homemade smoothies
---
THE VITAMINS AND MINERALS
The vitamins & minarals contained in most of your homemade smoothies can also help to ward off winter colds and flu.
So it's a good thing to try and get a smoothie a day in your diet at least to yield the benefits.
You could even crush up some multivitamins that contain all of the essential vitamins and minerals in them to make your smoothies super-healthy.
Below are some examples of some of the vitamins that you can get from your smoothies.
But remember there are hundreds of vitamins and minerals and they all play a part in your health.
VITAMIN C
Vitamin C, found in fruit and green vegetables, is a great vitamin for the common cold as it helps to boost your immune system.
It is also a natural antioxidant and helps to keep your blood pressure at a healthy level.
VIDAMIN D
Vitamin D, which you get from many foods and also natural sunlight, is essential for helping your digestive system absorb nutrients.
Vitamin D also helps to balance calcium levels in the body to prevent osteoporosis and arthritis and also helps to regulate your blood pressure.
VITAMIN B
B Vitamins are another very important group of vitamins to get in your diet, and these help to keep your skin young and fresh and your hair shiny.
They are also essential for healthy red blood cell formation, reduction of heart disease risks, the prevention of birth defects if you are pregnant and reducing the symptoms of depression.
Some Great Smoothies Featuring Superfoods
---
One of the easiest ways to ensure that you get a number of your 5-a-day fruit and vegetable intake is via a tasty smoothie.
A bit like the fruit version of a milkshake, these delicious, thick drinks contain much of the nutrition you need on a daily basis.
We recently ask a number of our favourite bloggers to share their best smoothie recipes containing fruit and vegetables with at least one superfood.
First up, Sus over at Rough Measures shares her recipe for Pear and Kale Smoothie.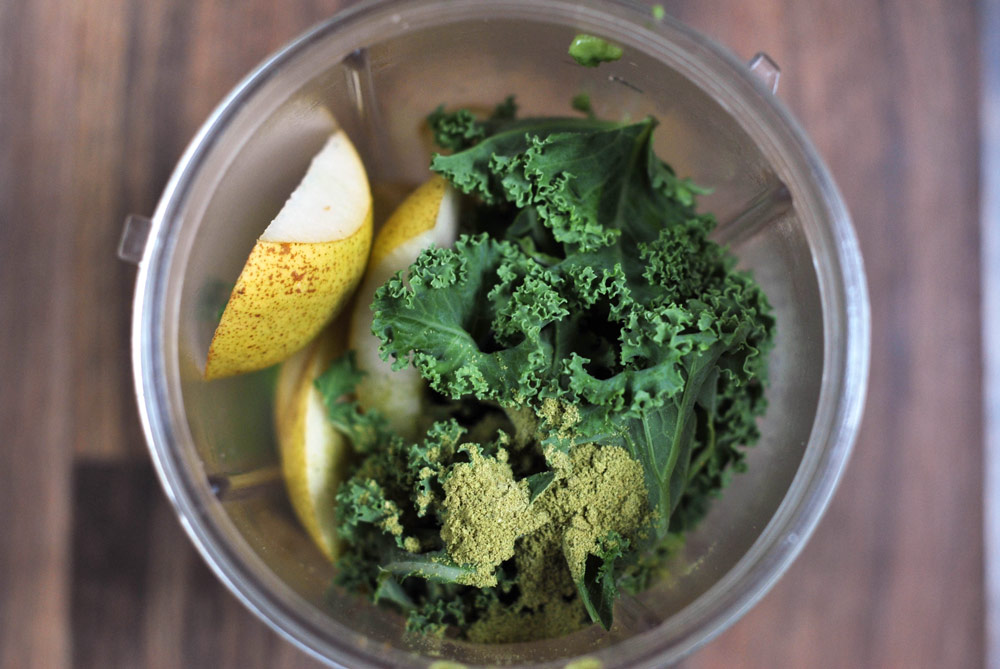 (Image Credit: Sus @roughmeasures.com)
She says this smoothie is 'The kind of thing you might need on a Monday morning after a weekend filled with one too many Mojito's.
You know the kind.'!
Smoothies aren't just for grown-ups either.
We love the way that Grace from Eats Amazing has livened up her Green Swamp Monster Smoothies with some great spooky decorations.
This smoothie contains spinach – something many parents have difficulty getting their children to consume!
Hide it in this drink and everyone's a winner.
---
Many outlets can charge an absolute fortune for a good smoothie.
Emma over at Emma's Savvy Savings shows how you can whip up a great smoothie for just 12 of your pence!
She says 'Both the teen and myself really like fruit smoothies but they can be pricey if you like exotic fruits therefore last night I was really pleased to find some reduced fruit from Tesco's.
This meant that we had a lovely fruit smoothie for breakfast.'
Containing passion fruit and pineapple – very tropical!
---
During the Autumn months, you might find you would like something a little more comforting.
This clever Apple Strudel Smoothie from Luschka at Keeper of the Kitchen features the powerful superfood
Maca and sounds like the sort of smoothie you would settle down with next to a lovely open fire.
Matcha powder not only boosts energy and boosts calories – it is good for you. Using an organic matcha green tea powder,
Chantelle at Mama Mummy Mum shares her recipe for a Green Tea Protein Smoothie Easy to make and packed with vitamins.
---
Once the colder months arrive, one of the most important things you need to be doing is boosting your vitamin intake.
Mel from Le Coin de Mel shares with us not one, but three great smoothies which can help with this.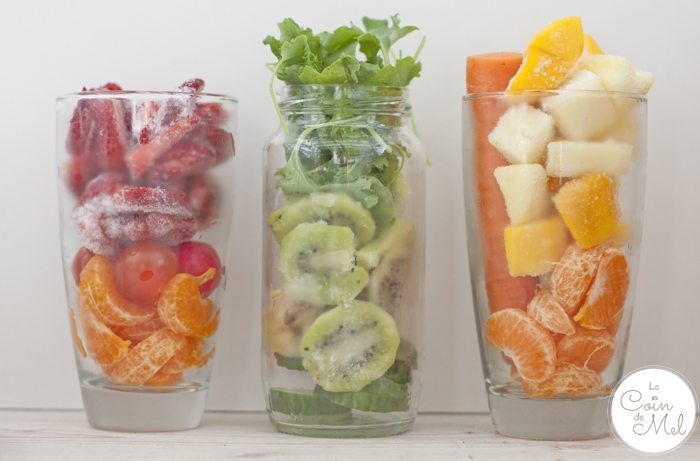 (Image Credit: Mel @lecoindemel.com)
The superfood ingredients include kale, ginger and strawberries.
We have previously shared with you the 5 benefits of avocados over here on the Amchara blog.
One of the easiest ways to include them in your diet is via a smoothie.
You might think that mixing them with chocolate sounds a little odd but trust us, it really isn't.
Sus at Rough Measures has a great recipe for Chocolate Avocado Smoothies.
---
We have also previously shared the benefits of both blueberries and chia seeds and this Berry Good Start Smoothie from Kirsty at Hijacked by Twins contains both of these superfoods together with raspberries, strawberries, mint and soya milk.
As she rightly says 'They are so filling and you know that they are giving you so many health benefits in just one glass.'
Kefir, coconut oil, almond milk, spinach and flax seeds are just some of the wonderful nutritious ingredients in this aptly named Green Power Smoothie from Jen over on Jenns Random Scraps.
She says 'This replaces a meal for me, and it's way better fuel than anything I can pick up at a drive-thru.' Quite!
Here are some smoothies from Amchara
---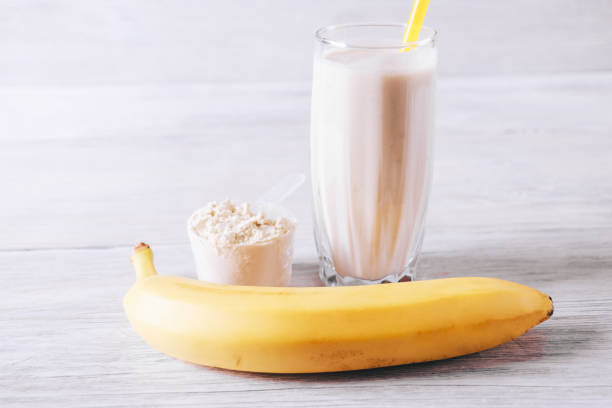 A refreshing and wholesome smoothie, perfect for breakfast or as an afternoon snack – created by our raw food chef Magalie.
Serves 2
INGREDIENTS
5 cups almond milk (345ml)
A little vanilla extract or ½ fresh vanilla pod
Pinch sea salt
1 teaspoon cinnamon powder
1 teaspoon nutmeg powder
90g dates or ½ cup (soaked for 1 hour), pitted
2 bananas (depending on size)
Crushed ice
METHOD
Combine all ingredients in a high speed blender.
Mango and Spinach Green Smoothie
---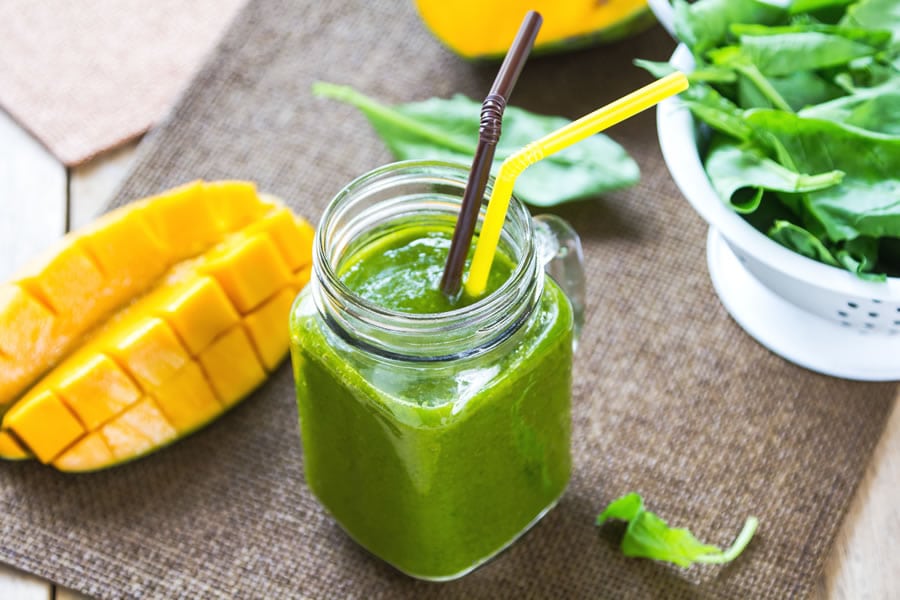 Delicious and simple Mango and Spinach Green Smoothie created by our raw food chef, Magalie at Amchara Gozo. Perfect for breakfast or as a refreshing snack.
Serves 2
INGREDIENTS
3 small mangoes or 1 large mango
2 handfuls spinach
1 cup coconut water (about 230 ml)
2 tablespoons lemon juice
Pinch salt
Crushed ice
METHOD
Combine all ingredients in a high speed blender until smooth.
---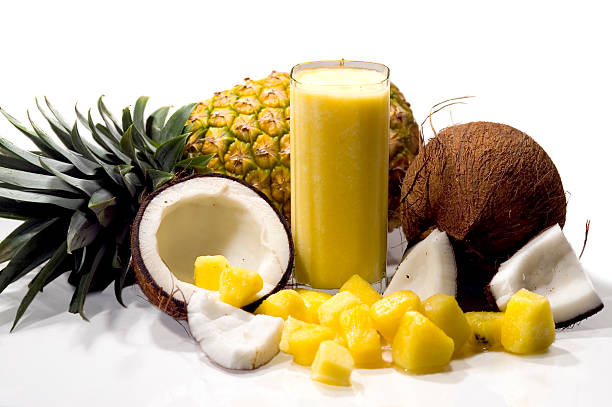 A tasty, refreshing and hydrating summer smoothie – dairy free and refined sugar free.
Serves 2
INGREDIENTS
1 medium banana (ripe and peeled)
¼ cucumber
1 cup of fresh or frozen pineapple or mango (6 chunks)
1 small handful of mint
½ inch (2.5 cm) piece of ginger (or less)
1-1.5 cups of fresh coconut water (230-345ml)
Crushed ice.
METHOD
Combine all ingredients in a high speed blender until smooth.
---
READ THIS NEXT: