If you didn't know already berries have a reputation for being a superfood for a very good reason.
For example, blueberries are jam-packed with antioxidants that may help keep memory sharp as you age.(1)
Raspberries contain a component known as ellagic acid, which has anti-cancer properties. (2)
Blackberries have also been shown to have antibacterial activity which will protect you from disease. (3)
Top Benefits of Berries:
---
A great source of fibre
Promote a healthy digestive system.
Less impact on blood sugar than other fruits
Reduce inflammation, fight infection and enhance immunity
Improve and support healthy brain function
Enhance cardiovascular health
Help to regulate hormone function
Help protect skin from sun damage
Anti-viral effects reduce cold sores
Berries Are Loaded With Antioxidants (15)
Benefits of Elderberry Elixir
---
Elderberry is well known for its ability to heal. (16)
It's just another of the many beautiful natural medicines that Mother Nature created for us.
Elder normally refers to two varieties from the honeysuckle family that produce berries.
Hippocrates referred to the elderberry as the medicine chest and both the Romans and the Greeks used elderberry flowers to treat a myriad of ailments.
Often, the berries from the elder plants would be used to make wines and jams until the Middle Ages, but after this herbalists from European regions started to realise its medicinal uses and it was used to treat infections and influenza.
Native Americans have also been discovered to have used it for this purpose.
It is only in recent years however that science has proven its medicinal benefits.(10)
---
Scientists from a medical school in Jerusalem used elderberries as a syrup to treat a flu outbreak in Israel in the early 90s. (11)
The scientists were amazed to see that the recovery time was cut in half by the elderberry elixir.
As a result, the elixir was trademarked and it is now available in health food shops across the US and Europe and in some other countries.
The same scientists later visited Norway during a flu epidemic and gave flu sufferers the elderberry elixir or a placebo.
The group taking the elixir recovered around 4 days faster than those taking the placebo.
The reason for the improved recovery time is the increased production of cytokine, which are immune compounds.
But elderberry does have lots more benefits too.
It contains lots of antioxidants that fight off free radicals in the body like many other dark berries.
It has also been shown to reduce the risk of cardiovascular disease, fight infection by supporting infection fighting blood cells, and can be used as an antiviral.
It is recommended that you take two teaspoons of elderberry syrup per day, or drink 200ml elderberry juice each day.(12)
Elderberry tea doses can also give you're the many benefits.
Thus far, no side effects have been reported, however it is known that consuming berries that are not yet ripe can cause nausea and in some cases vomiting.
5 Proven Health Benefits of Blueberries
---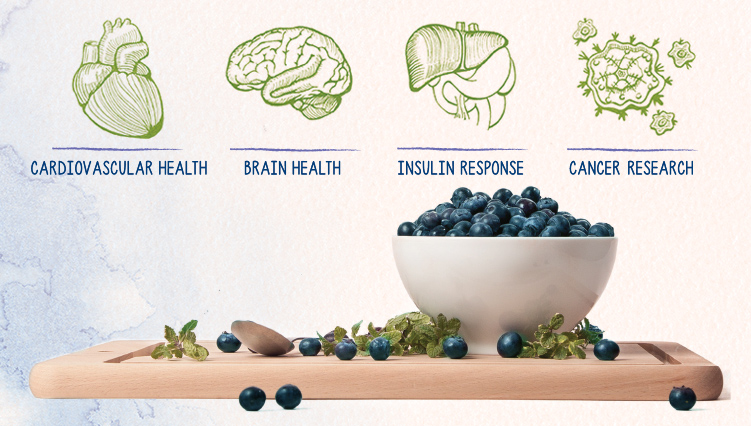 Blueberries are are sweet, nutritious and good for you and they are labelled as a superfood for a number of different reasons.
They are perennial flowering plants, native to North America but what powers do they possess?
Below, we list just 5 of their benefits.
1. Blueberries are Low in Calories, High in Nutrients
---
Blueberries are the most nutrient dense berries there are.
High in fibre, Vitamin C, Vitamin K, manganese and small amounts of other nutrients and they are also around 85% water.
An entire cup only contains 84 calories so these little berries really pack a punch.
2. Blueberries Assist your Bladder
---
In a similar way to cranberries, blueberries contain compounds that help to prevent bacteria from sticking to bladder walls.
This helps to ward off UTIs (Urinary Tract Infections).
3. Blueberries Help to Prevent Cancer
---
Oxidative DNA damage exists in every day life and it is said to occur many thousands of times per day in all the cells in your body.
This is part of the reason we grow older, and it also plays a part in the development of diseases such as cancer.
Blueberries are high in antioxidants and studies have shown that blueberries can protect against DNA damage.
4. Blueberries Boost Brain Health
---
Oxidative stress can affect the brain's aging process, accelerating it which then means there is a negative effect on brain function.
Studies have shown that the antioxidants in blueberries tend to accumulate in areas of the brain that are essential for intelligence.
They directly interact with aging neurons which then leads to the improvement of cell signalling.
5. Blueberries Reduces High Blood Pressure
---
Blueberries have significant benefits for people with high blood pressure.
Taking into account that hypertension is one of the leading causes of heart attacks and strokes, studies have shown that eating more than one ½-cup serving of blueberries a week reduces your their risk of developing this condition by 10 percent compared to those who don't eat any blueberries them.
Details can be found here.
The Power Of Goji Berries
---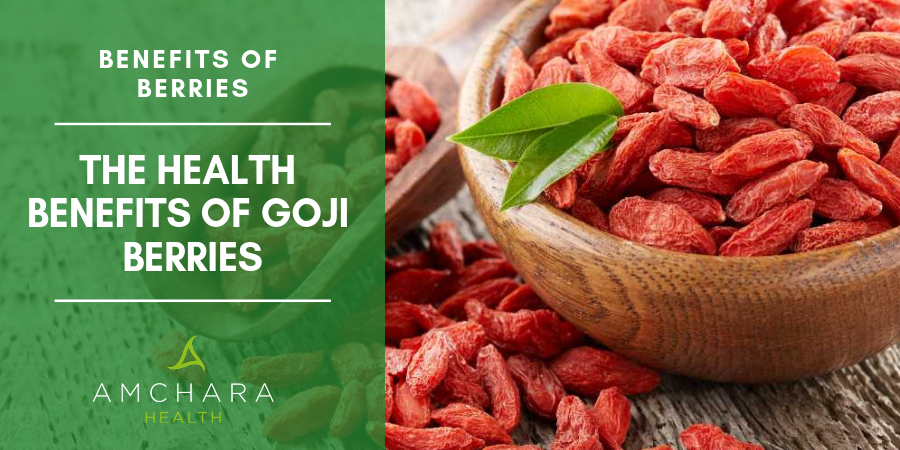 Goji berries are celebrated as an amazing superfood and a wonderful fruit to get in your diet in any way you can for nutrition, longevity and all round good health.
Goji berries contain a powerhouse combination of essential fatty acids, phytonutrients with antioxidant properties and amino acids, all of which our bodies need to fight off illness and disease and promote good health and longevity.
But what is interesting is that Goji berries actually have a number of unique nutrients.
So for this Chinese New Year, why not get some of these wonderful Chinese berries in your diet and give your health a kick start.
What are goji berries?
Goji berries come from an evergreen bush found mainly in China, Tibet, the Himalayas and Mongolia.
In these countries, they are often referred to as wolfberries. Goji berries are also called wolfberries in many of these countries.
Other vegetables and fruits in the same family include eggplant, tomato and tomatillo, tobacco and potatoes.
These astonishing (and tasty!) berries contain all eighteen of the essential amino acids.
But that's not all.
They also contain high levels of beta-carotene, also known as vitamin A, and high doses of vitamins E, B1, B2 and B6. Also, by weight, Goji berries contain more vitamin C than any other raw ingredient known to man and they have more iron in them than spinach.
As if all this weren't amazing alone, you then have to take into account the 21 other key trace minerals that Goji berries are brimming with.
If you're after a diet high in antioxidants, Goji berries are a must too as they contain very unique phytonutrient antioxidants known as lutein and zeaxanthin.
These wonderful phytonutrients are excellent for healthy eyesight and a healthy nervous system.
Nope, that's not it yet!
These super-berries are rich in Lycium barbarum polysaccharides, which is the name for a rare compound that gives the immune system a super boost.
NEXT: Watch this video- Goji Berries: Health Benefits + Goji Berry Brownie Healthy Eating Recipe
---
Makes: a dozen brownies (6 servings)

Ingredients
200 grams walnuts, soaked and dehydrated
6 tablespoons pitted dates
6 tablespoons cacao powder
1 teaspoon of vanilla extract
25 grams chopped walnuts, soaked and dehydrated
25 grams dried goji berries
3 tablespoons coconut oil

Method
Place the 200 grams of walnuts in a food processor outfitted with the "S" blade and grind them until they are the consistency of meal.
Loosely separate the dates, and add them to the food processor. Continue to process until the mixture is well combined.
Add the cacao powder, the vanilla extract and the coconut oil, and process to mix. Transfer the brownie mixture to a large mixing bowl.
Add the remaining walnuts and the goji berries to the brownie mixture.
Mix well with hands.
Pack mixture into a 7 by 7-inch brownie tin. Chill for at least one hour before slicing and serving.
Store in an airtight container in the refrigerator for up to one week or in the freezer for three months.
More amazing Goji berry recipes from around the web:
---
This is a delicious and indulgent dessert – without grains or dairy. Created by our chefs at Amchara UK.
Makes: One 9-inch tart (8 servings)
INGREDIENTS
Crust:
100 grams dried shredded coconut
100 grams macadamia nuts
Pinch of Himalayan crystal salt
50 grams chopped pitted dates
Filling:
2 avocados, peeled and seeded
5 tablespoons cocoa powder
3 tablespoon Agave Syrup
1 tablespoon vanilla extract
Pinch of Himalayan crystal salt
Pinch cinnamon
Fruit layers
1 pint strawberries or raspberries
2 bananas, sliced
METHOD
---
For the crust:
Place the coconut in a food processor outfitted with the "S" blade, and process to a fine powder.
Add the nuts and salt and blend to a coarse meal.
Loosely separate the dates and add them to the food processor. Process until the texture
resembles a graham cracker crust. The mixture should be loose and crumbly, yet hold together
when pressed tightly.
Press the crust into a 9 inch ungreased tart pan. Press firmly so the crust holds together.
Place it in the freezer or fridge to set up while making the filling.
For the filling:
Place the avocados, cocoa powder, evaporated cane juice, vanilla, salt, and cinnamon in a food
processor outfitted with the "S" blade, and process until completely smooth.
To assemble: Divide the filling into 3 equal parts. Lace a layer of sliced bananas evenly on top
of the crust. Spread a layer of filling on top of the bananas. Next, place one layer of strawberry
slices on the filling. Spread another layer of filling on top of the strawberries, and then layer more
strawberries, another layer of filling, and the remainder of the berries.
Chill at least 1 hour prior to serving.
Store in an airtight container in the fridge for up to there days, or in the freezer for up to two months
---
READ THIS NEXT: