Sweet potatoes are not only delicious, they are packed to the brim with vitamins including vitamin A and B6 as well as other essential nutrients such as fibre and potassium.
On top of all that they are also packed with antioxidants to help fight cancer and other severe illnesses. SO check out these wonderful sweet potato recipes you'll absolutely love them- we guarantee it! All of these recipes are suitable for vegetarians.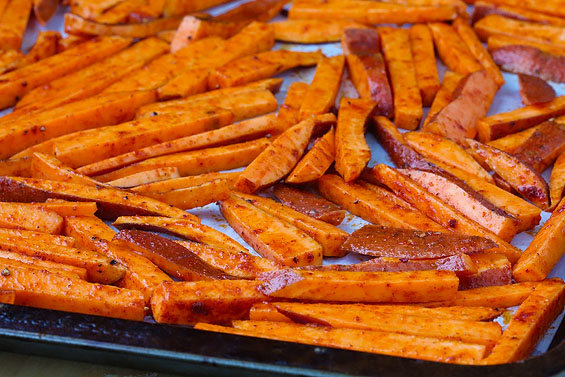 Sweet Potato Fries
Sweet potato fries are absolutely yummy and they can be healthy too if you opt to oven bake them rather than fry.
Start off by taking 1 sweet potato per person, and cut them into French fries, before throwing into a pan of boiling water to blanch them for 6-7 minutes. Drain them off, and then lay them out in a clean tea towel and wrap to dry them out completely.
Heat your oven to 200C / gas mark 6. Coat your fries in a light coating of olive oil. If you like, you could add a light coating of paprika too. Next place in a single layer on a baking tray and bake for 20 minutes. Serve immediately.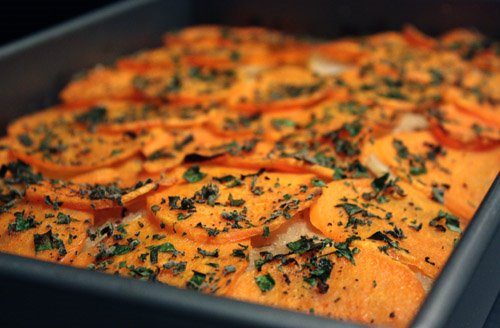 Sweet Potato and Goat's Cheese Gratin
For this recipe you'll need butter for greasing, 2 sweet potatoes peeled and sliced into 0.5cm thick rounds, 100ml hot vegetable stock, 55g hard goat's cheese, handful of fresh rosemary and salt and pepper to season. Preheat your oven to 200C or gas mark 6 and as it warms grease an oven dish with the butter. Put your sweet potato slices into a pan with the vegetable stock and add a splash more hot water, bring to the boil and simmer for around 7-8 minutes. Drain off and arrange your slices in a layer in the ovenproof dish. Crumble the goat's cheese over the potatoes and scatter the rosemary on top. Then bake in the oven or 8-10 minutes and serve beside your favourite dish. This is also a great vegetarian dish on its own, just double the recipe measures.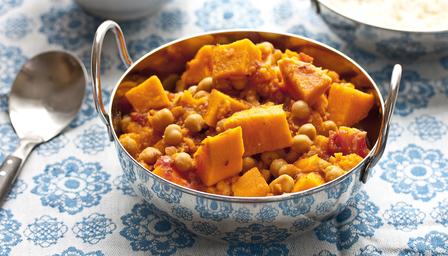 Sweet Potato and Chickpea Curry
Ingredients: 1 tbsp olive oil, 1 tbsp cumin seeds, one onion finely chopped, 2 cloves of garlic crushed, salt and pepper to season, 1 tsp chilli flakes or chilli powder, 50g root ginger, 600g canned chickpeas, 400g tin tomatoes, 750g sweet potato peeled and cubed, 200g rice, 500ml water.
Method: In a large saucepan, add the oil and heat over medium heat. Add the cumin seeds and toast for 1 minute then add the onion and a pinch of salt and cook for 5 minutes. Next, add your garlic, chilli and ginger and fry for 3 minutes. Drain the chickpeas and rinse in a colander, then add to the pan with the sweet potato and tinned tomatoes. Add the water, then bring to a summer and stir to mix all ingredients. Cover and summer on medium heat for 40 minutes, stirring every 10 minutes. About 10 minutes before the end, cook your rice. Serve the rice and spoon your curry on top before serving hot.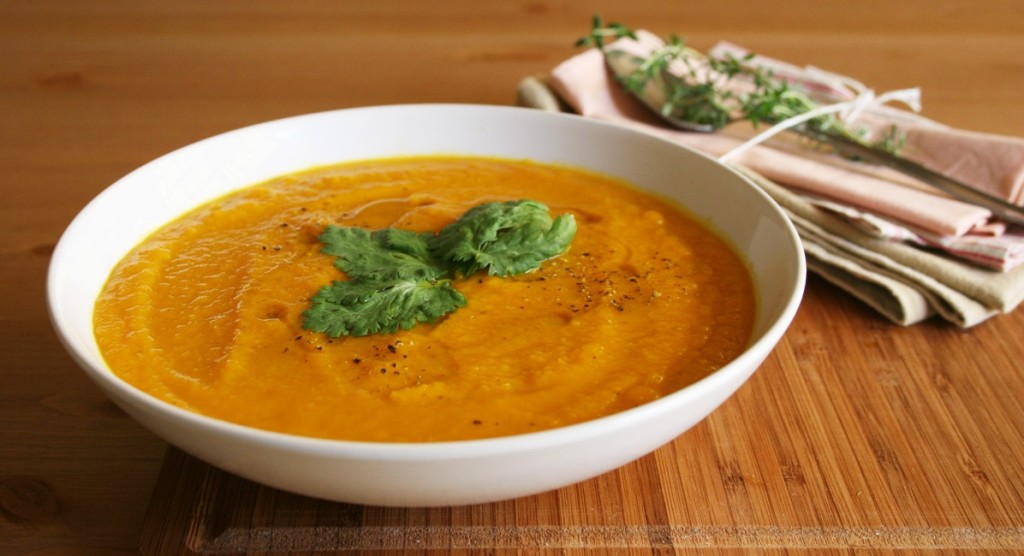 Vegan Carrot, Ginger and Sweet Potato Soup
Ingredients: 2tbsp olive oil, 1 finely chopped onion, 2 tbsp minced ginger root, 3 large carrots diced, 1 large sweet potato peeled and diced, 200ml vegetable stock, 1tbsp ground coriander, salt and pepper to season, 1 tsp chilli flakes, 2 tbsp minced garlic.
Method: In a large saucepan, add olive oil and onion and fry over medium heat for 3-4 minutes. Add the ginger, carrot and potato and cook for 2-3 minutes. Add your stock, and bring to the boil before adding coriander, chilli and simmer until all is tender. Turn off the heat and allow the soup to cool slightly before placing in a blender. Blend until smooth. Return to the saucepan, add garlic and stir in, then warm again before serving.