Pumpkin and carrot juice is a beautiful combination and is and ideal meal-in-a-glass when juice fasting. This juice is a healthy and will help to keep you on top throughout the autumn and winter.
One of the most powerful antioxidants is beta-carotene, and this is what gives certain fruits and vegetables the yellow and orange colours. The beta-carotene is the cancer fighting substance found in pumpkins. As it is also found in the carrots that are used in this recipe, you'll get a double strength dose of cancer fighting, immune boosting ingredients.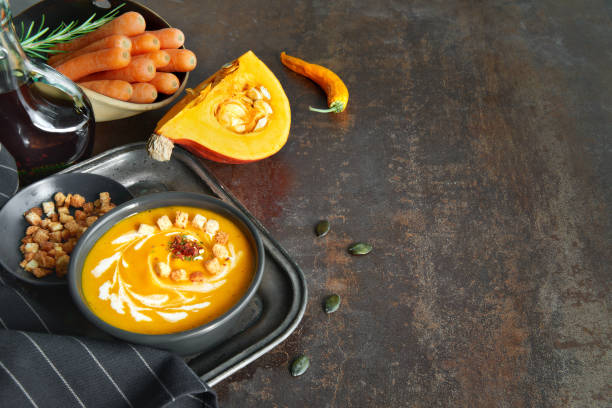 Remember, you can also make some hearty winter soups with pumpkin and carrot if you want something a little more warming.
Take a small pumpkin chopped into chunks, 4-6 carrots, 1 tablespoon of grated nutmeg, 2 inch chunk of ginger grated and 1/4 teaspoon of cinnamon. Place all ingredients in a blender with 1/2 pint of water and blend. If you feel that the mixture is too thick for your liking, simply add more water to get your preferred consistency. Then place in the fridge. When you are ready to drink, simply add some ice cubes to a glass and serve.
If you want to make this juice more sweet, add the juice and flesh of 2 medium sized oranges – however if you have type 2 diabetes this may not be a suitable ingredient so check with your doctor first, or drop us an email.