Want to stay healthy and looking good in the winter?
Then make sure you get your veg! You've probably heard of the raw vegetable diet that keeps you looking younger and in good shape, but in winter, why not switch your evening meal to a roast vegetable diet, which although isn't as high in enzymes as a raw vegetable diet still provides plenty of anti-oxidant power such as beta carotene. This dish provides the warmth, comfort and nurturing effect one desires on a cold winter evening.
It's nice on a cold winter's day after a hard day at work to get home and have a nice, warm, hearty meal isn't it? But as I've mentioned before, eating too much meat can do more harm to your body than good because it can be difficult to digest. Eating a vegan diet or even having a couple of vegan days each week can really give you the health boost that your body craves in the winter when your immune system is working overtime.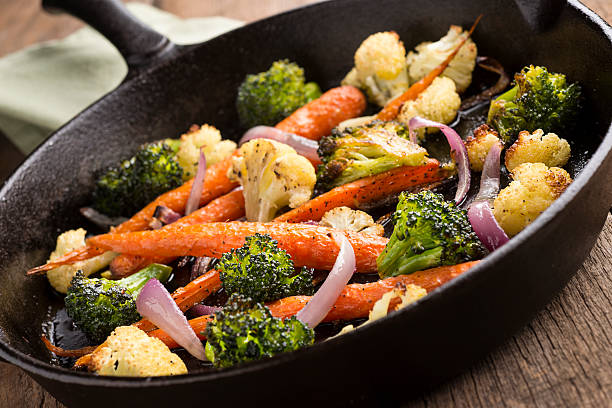 What are the benefits of eating vegetables?
---
If you eat large quantities of a wide range of vegetables as part of your normal daily diet, you'll be getting all of the vitamins and minerals that your body needs to function in the normal way. Vegetables are packed with essential vitamins and minerals, and there is no other food group that contains as many of the essential nutrients that the human body needs as vegetables!
We need to eat our veg regularly because certain vitamins and minerals can be stored away by your body for when you need them such as vitamins A & E, but others like the B vitamins are simply flushed from the body if they are not used and so they need to be replaced daily. This is why it is so important to eat them on a regular basis.
The vitamins and minerals in vegetables are essential for a healthy immune system too, which is why it's always good to eat more in the winter when you're more susceptible to colds, flu and general bugs and illnesses.
One of the best things about vegetables is that because the calorie count is so low, you can eat them to your heart's content and not gain weight. This is why it's such a great food group to get a load of when you're dieting or exercising to get in shape.
Vegetables are also very kind to your body, in that they are easy for you to digest and so there is no strain put on your body when you are digesting them, unlike other foods groups such as meat and dairy which I always recommend you keep to a minimum or avoid altogether if you can.
By far the most amazing benefit about vegetables that should be considered is the fact that they are packed with phytonutrients, which are linked to the prevention of a range of illnesses including cancer.
Phytonutrients work in the body by neutralising harmful free radicals which damage the body's cells. They help to repair and protect the cells from these free radicals and this can help you to live longer, prevents diseases and generally keeps your body in a healthier state.
---
Related Vegetables Stories & Topics:
Roast Vegetables for Winter Goodness
The Most Nutritious Vegetables
The Brilliance of Brassica Vegetables
Simples Ways to Eat More Vegetables
Get the Best of Winter Vegetables
---