It's that time of year again when you feel like everybody and everything is trying to get you to indulge in foods that are bad for your health. But thankfully, being vegetarian or a raw food fan doesn't mean you have to eat boring foods during this wonderful time of year when there is so much beautiful natural food available and in season.
There are some nifty little tricks to make raw 'cream' and other yummy treats that can really tart up your menu during the festive season.. Of course, it's not really cream, it's a raw food alternative and tastes (in our opinion) even better than fresh cream. And what's more, it's good for you, is very low calorie and can be added to desserts to make a really tasty treat.
We hope that you have a great time and enjoy exploring raw foods in your own recipes over the Christmas period. Please make sure you do send in your photos of your own raw food treats too, we'd love to share them with our fans!
Raw Ginger, Cranberry, Pumpkin & 'Cream' Parfaits
---
This is a delicious raw dessert ideal for Christmas Eve or even to follow your raw Christmas Day dinner. This is a treat that even those who aren't on a raw foods diet will love, but as it's vegetarian it saves having to make more than one dessert for everybody to enjoy. We guarantee you will love it.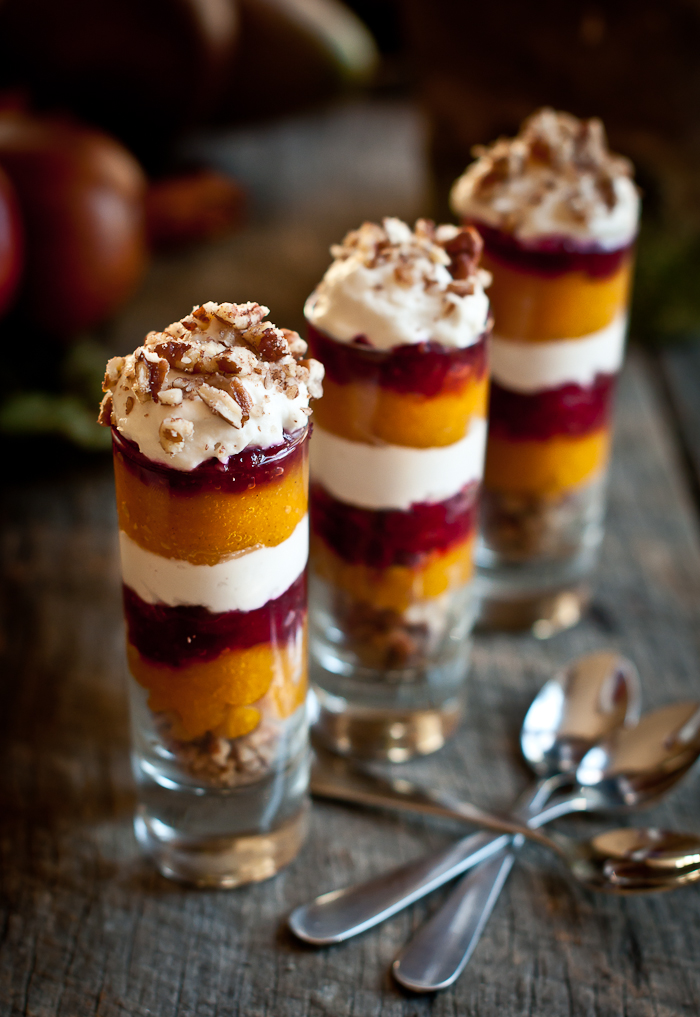 For the pumpkin puree layer: take half a medium size pumpkin, half a cup of water, 2 tablespoons of raw agave nectar (as a sweetener) and a teaspoon of cinnamon. Add the ingredients to a blender or food processor and blend into a puree. Add the water slowly so that you can make it up to the consistency that you prefer.
For the ginger cream layer: Take half a cup of water and half a cup of cashews and blend in a food processor until it makes a smooth paste. Next melt quarter of a cup of coconut oil and add to the mixture before adding in two tablespoons of raw ginger and two tablespoons of raw agave nectar. Process further until well blended and then chill in the fridge until it sets like cream.
For the cranberry layer: Add a cup of frozen cranberries and quarter of a cup of raw agave nectar to a food processor and blend. You can stop when you get the desired consistency, some people prefer it chunky while others prefer it smooth.
For the pecan nut layer: Add a cup of pecans and a teaspoon of cinnamon to a food processor and pulse until chopped and mixed.
METHOD: In a parfait glass (or any tall glass), add pecan layer, pumpkin layer, cranberry layer then ginger cream layer. Repeat the process, and then top it with another layer of pecans. If you want to make it really posh, top with a fresh cherry with the stalk still on!
Raw Banana 'Cream' Tart
---
We are big fans of bananas because they taste so good and they are so versatile. They make a great ingredient for desserts. And this recipe is one of the best raw foods desert recipes ever, it is a dessert that is ideal for entertaining over the festive period and everybody, even non-raw foodies, will love it!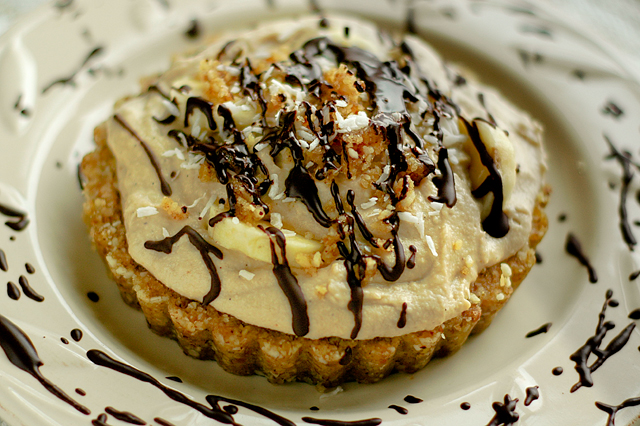 INGREDIENTS:
Crust: 1.5 cups walnuts, 1 cup Brazil nuts, 5 soaked dates, 2 tbsp coconut butter
Filling: 2 cups soaked cashews, 1 cup young coconut flesh, ¼ cup fresh coconut water, ¼ cup coconut butter, tsp lemon juice, ¼ cup agave, 1 vanilla bean, 2 sliced bananas
Raw chocolate topping: 1 cup raw cocoa butter, 1 tsp vanilla, 3 tbsp coconut oil, 1/3 cup powdered sucanat, 2 tbsp agave, 7 oz cocoa powder
METHOD: For the crust, in a food processor, pulse together the nuts until chopped and then chop the dates and add them to the processor with the coconut butter. Process a little longer until the mixture is well blended. Next, press the crust mixture into tart shells to around 0.5cm thickness.
For the filling, place the cashews, coconut water and flesh into the processor and blend until well blended. Next add the lemon, agave, coconut butter and one of the bananas and blend until the mixture becomes light, smooth and fluffy. Then add the second banana and blend in. Chill in the fridge for half an hour then remove and spoon over the tart case crusts. Sprinkle a small amount of chopped nut and cinnamon mixture on top.
For the raw chocolate, melt the coconut oil and cocoa butter in a bowl over hot water (this prevents burning of the mix). In the food processor, add the mixture and the vanilla and mix. Remove half the mixture and put to one side, then add half the cocoa powder and blend. Finally, add the remaining cocoa powder and blend really well, it should be fairly viscose but will set as it cools. Pour the chocolate mix on top of your tarts and leave to set.
Beetroot, Goats Cheese & Cranberry Parcels
Although not so much a raw food Christmas dinner, this is certainly one for vegetarians and tastes absolutely amazing, it does use a small amount of dairy, but hey, what's one day a year!? And believe us, when you slice these beauties in half they will really get your guests mouths watering!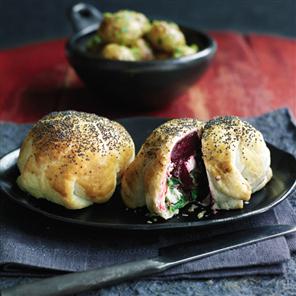 INGREDIENTS:
500g block fresh puff pastry
400g beetroot, scrubbed
200g washed baby leaf spinach
200g crumbled goat's cheese
1 finely sliced small onion
1 red chilli, deseeded and chopped
50g dried cranberries
1 egg, beaten
1 tbsp olive oil
Handful poppy seeds
Flour for dusting
METHOD:
Preheat the oven to gas mark 5/190°C/fan 170°C. Add the beetroot to a roasting tin, sprinkle with a little oil, season with salt and pepper and lightly mix together to coat. Roast for 45 minutes, turning 20 minutes in. Put to one side to let cool down, and then remove the skin. Next, put the spinach with a teaspoon of water into a large saucepan and cook over a gentle heat for a couple of minutes just to wilt it. Place in a colander and squeeze out any water that is left. Then slice the beetroot up into fairly large wedges and mix in a large bowl with the spinach, goats cheese, chopped onion, chilli and cranberries and season with salt and pepper before putting to one side.
Now lightly flour the work surface and thinly roll out the puff pastry. Cut out six 15cm pastry squares and divide the beetroot mixture between them, adding a dollop to the centre of each square. Brush the edges of the pastry squares with the beaten egg and fold the corners to the middle, pressing to seal and form a neat parcel. At this point, you are able to freeze them for up to a month, so you can make them in advance of Christmas Day to save you time and stress! If you do freeze, simply take out of the freezer and defrost for 4 hours before the next step:
Next, place the parcels sealed side down on a large baking sheet covered with baking parchment. Brush the exposed tops with the remaining egg and sprinkle on some poppy seeds. Bake in the preheated oven for around 20 minutes or until the pastry has puffed up and gone crispy. Serve with dressed new potatoes and fresh vegetables. Bon appetite!