Hopefully you found last week's blog with some of our suggestions for healthy snacks to make and eat over the Christmas period helpful? This week we've focused on dishes that are designed to be eaten on Christmas Day; the focus is on using gluten and dairy-free ingredients, with a few vegan options too so that whatever your choice for adopting a more mindful, healthy approach to your diet, you can still feel inspired and excited to tuck into something delicious this Christmas!
Roasted Sprouts with cranberries and hazelnuts
serves 6
Ingredients
1 tbsp coconut oil
5 cups of Brussels sprouts
1/2 cup of fresh cranberries or half the amount of dried cranberries (pre-soaked for 30 mins)
1/2 cup of hazelnuts
salt and pepper
Method
Preheat the over to 180oC and place a roasting try in the oven with the coconut oil to allow it to melt
Prepare the sprouts by chopping the ends off and halving any large ones
Take out the roasting tray and add the sprouts, cranberries and hazelnuts.
Roast for 25 mins, take out and stir before roasting for a further 5-10 mins or until everything is golden and tender.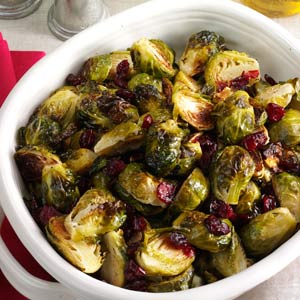 Vegan Christmas Pudding
serves 6 – 8
Ingredients
50g of dried cranberries
50g sultanas
50g raisins
50g of unsulfured dried apricots
75g of pitted, chopped medjool dates
1 apple chopped into small cubes
50g of buckwheat or brown rice flour
150g ground almonds
100g chopped mixed nuts (hazelnuts and pecans work well)
the zest and juice of a large clementine
6 tbsp maple syrup
2 tbsp milled flaxseed with 4 tbsp water
1 tsp ground ginger
1 tbsp ground cinnamon
1 tsp ground nutmeg
1 tsp vanilla extract
Method
In a bowl soak the flaxseed with the water for around 10 mins until it thickens.
Add all the other ingredients to a separate bowl.
Line a glass pudding bowl with baking paper and spoon the mixture into the lined bowl and fold the paper over the top before tying with a piece of string to secure it.
Fill a deep, wide pan with boiling water and put the bowl inside the pan.
Cover with a lid, bring to a medium heat and then simmer for around 2 hours.
Take care to watch the water content to make sure it doesn't evaporate.
Serve with cream, brandy butter or a vegan cashew custard. (see below)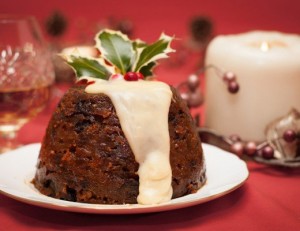 Vegan Cinnamon Cashew Custard (to be served with the Christmas Pudding)
Ingredients
75g of raw cashews
200 – 300ml of water
3 tbsp of maple syrup
1 tsp vanilla extract
1 tsp cinnamon
2 tbsp Brandy, optional!
Method
Soak the cashew nuts in a bowl covered with water for 3 hours
Blend the cashews, water, cinnamon, maple syrup and vanilla adding the water slowly to reach desired consistency.
Vegan Nut Roast
serves 4-6
1 leek
1 large onion
2 medium carrots
3 portobello mushrooms
3 cloves of garlic
200g unsulphured dried apricots
50g sultanas
1 tbsp freshly chopped rosemary
1 tbsp dried oregano
1 tbsp freshly chopped sage
1 tsp ground nutmeg
4 tbsp milled flaxseed mixed with 12 tbsp water
100g almonds
100g brazil nuts
100g hazelnuts
100g brown rice flour / buckwheat flour
extra virgin olive oil
Method
Preheat the oven to 180oC
Add the water to the flaxseed in a small bowl and leave for 10 mins to expand.
Add the chopped onion to the pan on a low heat with the olive oil and fry for 5 mins.
Add the chopped vegetables, garlic and apricots and sultanas and fry for a further 5 mins
Add the fresh and dried herbs and continue cooking until everything is cooked through, then take off the heat.
Add all the nuts to a food processor and blend until they chunky crumbs.
Combine the nuts with the cooled mixture and the flour.
Place the mixture in a lined loaf tin and push it down so it fills the tin.
Bake in the oven for 50 minutes. Take out and cut into chunky slices to be serves with sauce of choice; cranberry, bread, or a cheesy nut roast.
Christmas Morning Porridge
serves 4
160g gluten-free porridge oats
1/2 tsp vanilla extract
1 tbsp coconut oil
1 clementine, peeled
1/2 pomegranate, seeds
1 medjool date
4 tbsps coconut flakes
1 tsp ground nutmeg
1 tsp ground cinnamon
1 tsp ground ginger
2 cups of milk of choice (almond works well)
2 cups of water
almond butter to drizzle
Place the oats, water and milk in a pan and leave to soak for 10-15 mins.
Turn on the hob to a medium heat and bring the porridge to a simmer and cook until a creamy consistency is achieved. Add in the tangerine, ginger, cinnamon, nutmeg, vanilla and coconut oil
Toast the coconut flakes over a high heat until golden.
Serve the porridge in individual bowls and top with the pomegranate, date, coconut flakes and almond butter.