Goji berries are celebrated as an amazing superfood and a wonderful fruit to get in your diet in any way you can for nutrition, longevity and all round good health.

Goji berries contain a powerhouse combination of essential fatty acids, phytonutrients with antioxidant properties and amino acids, all of which our bodies need to fight off illness and disease and promote good health and longevity.
But what is interesting is that Goji berries actually have a number of unique nutrients.

So for this Chinese New Year, why not get some of these wonderful Chinese berries in your diet and give your health a kick start.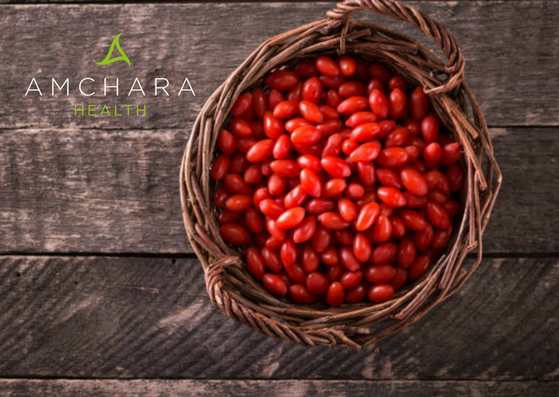 What are goji berries?

---
Goji berries come from an evergreen bush found mainly in China, Tibet, the Himalayas and Mongolia.

In these countries, they are often referred to as wolfberries. Goji berries are also called wolfberries in many of these countries. Other vegetables and fruits in the same family include eggplant, tomato and tomatillo, tobacco and potatoes.
These astonishing (and tasty!) berries contain all eighteen of the essential amino acids.



But that's not all.
They also contain high levels of beta-carotene, also known as vitamin A, and high doses of vitamins E, B1, B2 and B6. Also, by weight, Goji berries contain more vitamin C than any other raw ingredient known to man and they have more iron in them than spinach. As if all this weren't amazing alone, you then have to take into account the 21 other key trace minerals that Goji berries are brimming with.
If you're after a diet high in antioxidants, Goji berries are a must too as they contain very unique phytonutrient antioxidants known as lutein and zeaxanthin. These wonderful phytonutrients are excellent for healthy eyesight and a healthy nervous system.
Nope, that's not it yet!
These super-berries are rich in Lycium barbarum polysaccharides, which is the name for a rare compound that gives the immune system a super boost.
NEXT: Watch this video- Goji Berries: Health Benefits + Goji Berry Brownie Healthy Eating Recipe



Here is our Amazing Goji Berry Coconut Brownies Recipe
---
Makes: a dozen brownies (6 servings)

Ingredients

200 grams walnuts, soaked and dehydrated
6 tablespoons pitted dates
6 tablespoons cacao powder
1 teaspoon of vanilla extract
25 grams chopped walnuts, soaked and dehydrated
25 grams dried goji berries
3 tablespoons coconut oil

Method

Place the 200 grams of walnuts in a food processor outfitted with the "S" blade and grind them until they are the consistency of meal.
Loosely separate the dates, and add them to the food processor. Continue to process until the mixture is well combined.
Add the cacao powder, the vanilla extract and the coconut oil, and process to mix. Transfer the brownie mixture to a large mixing bowl.
Add the remaining walnuts and the goji berries to the brownie mixture.
Mix well with hands.
Pack mixture into a 7 by 7-inch brownie tin. Chill for at least one hour before slicing and serving.
Store in an airtight container in the refrigerator for up to one week or in the freezer for three months.
---
More amazing Goji berry recipes from around the web: